On the eve of his execution by Germans in 1942, Rud Hueting wrote a farewell letter to his family, who were incarcerated in another German-run prison. It's a prized and poignent keepsake for his son Gerard Hueting, now resident in Mapua and who still vividly recalls his final meeting with his father
Living with the scars of war.
A father's final words to his family
My most beloved Nanny, my dearest Pum and Gerard, Only a few more hours and then I will have to take leave of this life. I do not want to use many words and be sentimental; we have never been that way.
My last year of my life has not been the easiest, but I have not despaired, not even in the most difficult hours, thanks to the knowledge that you were always thinking of me and I was supported and made strong through your love.
Nanny my love, I have had a beautiful life, together with you, you have been for me the only woman, only with you have I been happy and if I could relive my life you would again be me my wife.
I do not know what will happen after this life, but I hope that we may see each other again and be together again. Together we have experienced so much joy when we were engaged, when the children were small, we were such a happy family.It hurt me so much to learn at your last visit that the three of you are now also imprisoned, but I trust your strength and I trust that you all will come undamaged through this ordeal.
Your sacrifice is for your people and the Netherlands, for what is "good" in this world. I am sure that one day all that is good will win and that your and my sacrifice will not be in vain. Dearest Pum, keep your chin up, my girl, I always loved you even though sometimes our characters clashed.
Dear Gerard, you are now the man in our family, support your Mother and Sister, you have always been my loved and best boy. Find support in each other and strive for our ideal, a free people.
Dearest Natchen, I thank you especially for all the love, I have been deeply happy with you.
My three loved ones, I hope that you will soon see the sun of justice shining.
Good-bye from this life, my loved ones, till we meet again, yours for ever loving,
Rud
"They had a nice car and we all got in the car and they told us we were going to see Father - and Father was going to be executed". At 82, Gerard Hueting's memory of his family's torment in World War 2 is unmarred by time. Sitting at home in Mapua, he occasionally asks his wife Jeanette for details of other events, but he vividly remembers the final meeting with his father.
He quietly insists on being called by his first name. By September 1942, aged 17, he was incarcerated in Scheveningen Prison near the Hague in German-occupied Holland. His mother and sister were there too. The three were Dutch Resistance sympathisers, imprisoned when the group they assisted was rounded up by German secret police. But Gerard's father Rud was worse off. A long-serving official in the Dutch intelligence, he had been entrusted by the Resistance with stolen German plans to invade the United Kingdom.
He was caught but refused to talk to interrogators and by late 1942 he was being held in Utrecht, in the last of a series of prisons and concentration camps
The Huetings' captors were skilled at mind-games: there were preparations for Rud's release that at the last minute turned out to be "mistaken" and prisoners were forced to punish an inmate who stole a potato.
Gerard had been in solitary confinement for months and was given no notice that he was to see his family again, or what the visit was for.
One morning I was told, "get dressed and you can clean yourself up". I had to run to the front and there were the interrogators who had been dealing with our case.
It was his first meeting with his mother and sister since his arrest. The trip to Utrecht was surreal. Despite knowing Rud's sentence "we laughed and made jokes and we sort of ignored our captors". They were escorted to a room at the prison and simply walked in and talked and shook hands. "We were a very, very close family", Gerard says, but his parents met the situation with "the stiff upper lip".
Two nights later Rud wrote a letter of love and encouragement - and farewell - to his beloved wife and children (see panel). The next morning he was shot.
There are gaps in Gerard's knowledge of what happened to his father - the kind of gaps that might prevent the family from achieving closure. Gerard does not accept that: "This word closure, I have never been able to understand ".
Years after Rud's execution, when a the war was over, investigators discovered "some urns with ashes of various people, all very nicely labelled and so on. That was in Hamburg." Gerard was with the army in what was then the Dutch East Indies, helping former captives of the Japanese. The family never got to bury Rud or scatter his ashes."They went to a special cemetery for resistance people".
Similarly, Gerard knows why his father wound up in prison but there are details missing. His own story is remarkable but he is reluctant to have it published saying, "this should be about my father". Rud was born in the late 1800s and Gerard recalls him as a man of principle. "They were Dutch Reformed, that was the religion in Holland. Father was a teacher in a little place in the provinces. The teacher had to be a churchgoer of course.
"One of the farmers got one of the maids who worked on the farm pregnant and just sent her packing. Father felt he should have taken responsibility and he objected but the farmer was a high-standing figure in the church. My father never went back to church again."
Rud who spoke six languages, joined the Dutch Intelligence in World War 1 and remained in the job until he was captured.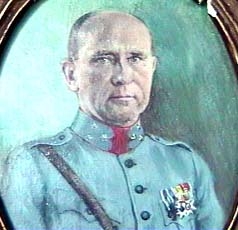 Rud Hueting
By the time Germany occupied the Netherlands, in May 1940, he was using his passion for photography to gather information. "He had a Leica which in those days was a special camera, and an enormous lens on it", Gerard recalls. "When the Germans started building up their armaments and airfields and so on, he often went down south to the border and photographed them in secret."
There was a functioning relationship between the occupying forces and Dutch officialdom, which allowed Rud to continue working, albeit with strict oversight. Behind the scenes he remained vehemently anti-Nazi.
In 1941, a student group opportunistically stole a German briefcase. It turned out to contain invasion plans, which passed through several hands as the Resistance tried to get them to London. But the students identified a traitor and killed him. When investigators realised who he was, the network, including Rud, was discovered and rolled up.
Despite the outcome his efforts had succeeded. Gerard, a final-year school student, had hidden versions of the plans in his accountancy exercise-books and Rud managed to them to London. It get microfilms of was enough to limit their use to practice invasions."The English authorities were anticipating where they were landing and they put oil on to the sea and set it alight. I have personally seen, very shortly after Father was taken prisoner, charred corpses which had blown back across the sea", Gerard recalls.
The Germans were certain of Rud's involvement but could not find enough evidence to convict him. They refused to let him go, however. His family never learnt exactly what prompted his execution. Gerard's mother never forgave the Germans, and for a time he too harboured a hatred for the oppressor.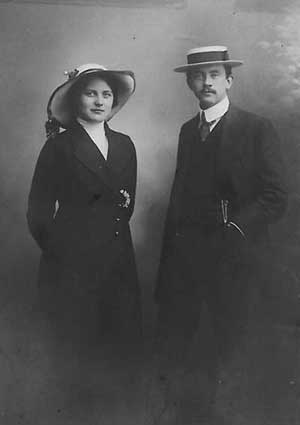 Rud Hueting as a young man with his wife Janna van den Elst
Does he still? "No, everyone experiences war in a different way. I only wish those experiences made it impossible to have another war" He emigrated to New Zealand in 1950 and spent over 40 years as an engineer with what is now Transpower. After keeping quiet for decades about what his family endured, recently he has begun to write a memoir of his father and to record his own memories.
Has that changed the way he looks at his father in retrospect? "No I've always admired him. I've tried to live up to the way he was."
He and Jeanette were heavily involved with international volunteer work, and he recently began helping a group of Burmese refugees. He agrees that is a way conflict in future might be avoided - interacting more with different societies.
"It's the only way, isn't it? If there's hope, then it has to be along those lines."